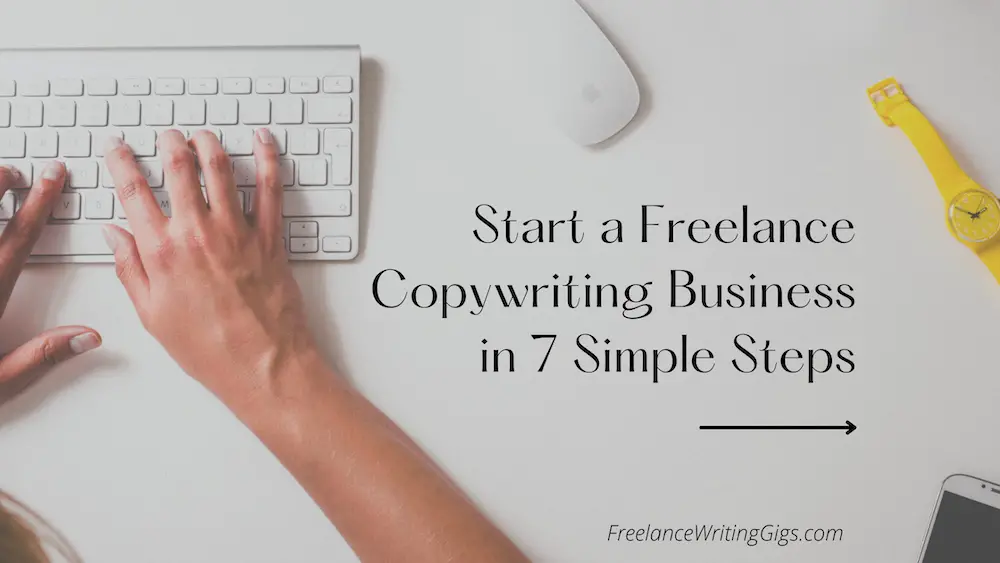 A good copywriter is great for business. They will inform, educate, and communicate, getting a reader to take action. If this translates into sales and sign-ups, then they are invaluable.
The art of copywriting has never been in more demand. Companies always need expert word wizards to connect with their audience. To meet this demand, starting a freelance copywriting business is an attractive proposition.

Striking out on your own can be enticing. The initial outlays are low, and the rewards can be high. The average salary for a freelance copywriter in 2022 is $78,000. If experienced and in demand, you can command upwards of six figures a year.
Starting a freelance copywriting business is hard work, and not without potential drawbacks. But if done well, you can enjoy a successful and profitable enterprise. 
Let's look at seven steps to launch your copywriting business, and make you more money.
Starting a freelance copywriting business…
1. Tools of the trade
Starting a freelance copywriting business doesn't have huge start-up costs. You don't need specialized equipment or extensive training. Some businesses require complex technology like Datagram Transport Layer Security (DTLS). Copywriting requires a computer with a word processor and an internet connection. 
You will need somewhere comfortable to write. Make sure your workstation has a desk at a suitable height, and a chair that offers lumbar support. You will be spending a lot of time sitting in this position. Look after your body while you are doing it.    
Do some research on the subject. Check out books, blogs, and podcasts about copywriting. The more informed you are, the easier you will find it is to start writing. The resources are out there, get stuck in, and get stimulated!
Make a record of any purchases you make. These can be claimed as expenses against your income tax at year-end. Register your company so it is legally recognized. Take out business insurance. You are delivering creative expertise, so get professional indemnity coverage.   
Must read: Tools for Freelance Writers Around the World
2. Make A Business Plan
Every business needs a well-thought plan to get started. Copywriting is no different. Without setting your goals, and ways to achieve them, you are unlikely to prosper. Proper planning will help you to succeed and earn the income you are aiming for.
Consider your strategy. What markets are you going to target, and how will you engage with them? Competitor analysis is a good place to start. Look at copywriters who are positioned where you want to be, and plan how you will get yourself there. 
Think about the future, and how you intend to grow your business. Break it down into short, medium, and long-term goals. There may be tough times ahead. How will you deal with fluctuating market conditions? You need to be able to survive during a downturn. You should be able to capitalize when the economy is booming.
Whatever your business aims are, make sure they are all consolidated in your plan. Be smart, and be prepared.
Use these resources to make your business plan: Business Plan Software for Freelance Writers
3. Specialize
Your business will get the best results if you focus on which services you are going to offer. It may be tempting to take on any work available, just to get going. Though, what you do initially can end up shaping what you do in the future, so think carefully about this.
Copywriting covers a large spectrum of services. This includes things like website copy, blog writing, product descriptions, and many more. Are there any areas you excel at? Pitch for these kinds of jobs. The more experience gained, the more you can show off examples to prospective clients.
It is worth bearing subject areas in mind. Companies like to hire writers with expertise in certain topics. If you have an interest or passion for something and can write about it, great! Empathy is a big part of copywriting. If you are already invested in the subject, this will flow into your writing.
Specializing in your business can help with reducing customer churn. Retaining clients is a good strategy. Studies have shown that it can cost up to five times as much to get a new customer than it does to keep an existing one.
4. Build A Website Portfolio
To get clients, you'll need a way to display a portfolio of your work. The best way to do this is on a website. It acts as your shop window to potential customers, who can see what you have to offer. This is likely to be the first impression they get of you, so make it a good one
If you have previous copywriting experience, choose your best work to date. This should showcase the types of services and subjects you are good at, and clients you have worked with. 

Lack of commercial experience shouldn't be a barrier. Try engaging with companies to do spec work. A great way to get industry experience and material for your portfolio if you are only starting out. 
Include a bio. It helps clients get a sense of who you are, and your background. If possible, get testimonials from anyone you have done writing work for. Make sure your website is secure to avoid a personal data breach.
Don't worry if you have no experience in making websites. There are plenty of pre-built website template services out there. Or you can hire a web designer to do it for you. You'll need a website address. Search international domains to check if the one you want is available.
Need help? These resources will help you start from scratch, as well as improve existing portfolios: All you need to know to create an online portfolio for freelance writers.
5. Work Out Your Rates
A tough aspect of starting your own copywriting business is figuring out what to charge. How do you know where to pitch your services? You want to be competitive, but it's important to not sell yourself short.
It's important to understand that there are no fixed standard rates. Like many of the creative industries, it can seem a bit like the Wild West out there. You could give five identical briefs to five different copywriters. Chances are, you would likely get five different quotes.
Despite this lack of formal structure, it's not impossible to work out a reasonable rate. Do some research on other copywriters in your area. Focus on those with a similar level of experience or skill. Use their prices as a benchmark.
Different copywriters charge in different ways. You can work on a straightforward per word or per hour basis, and you can offer both of these options to clients. Many operate on a day rate. 
A large proportion of copywriters charge a project-based fee. The client explains exactly what they need, and receives a bespoke quote. This method puts the copywriter in control and reduces the risk of undercharging.
Your rates should also factor in your ongoing expenses. You need to be charging enough to cover the business running costs and pay yourself a decent wage. Consider using a budgeting app to help with your financial planning.  
6. Pitch To Clients
This can be daunting, especially if you aren't used to putting yourself out there. But you will need to convince clients that they should hire you. A key copywriting skill is being able to attract an audience to a business. In this instance, you are the business. 
Once you have assembled your portfolio website, prospective clients need to see it. Search out some companies you would like to work with, and get in touch. Send a pitch email, introducing yourself. Outline your services, and why working together would be great for them. 
Networking events are a great place to meet people and pitch your business. Think outside the box and don't limit yourself to marketing and advertising meetups. Almost all industries need copywriting services, so find one of interest and get involved.
Maintain positive communications with any prospective clients you engage with. Be professional, polite and friendly. If they contact you with a query or issue, aim to resolve this within the first contact.
Start here: How to Create Pitches Clients Can't Refuse
7. Upskill Yourself
Regardless of where you are in your copywriting journey, there is always room for growth. Diversifying your skills and learning new techniques will make you a stronger writer. This can help position you better in the marketplace, and land higher-paying gigs.
Market trends are always changing, so keep up to date with what's happening in the industry. See what companies key requirements are, and get up to speed. For example, knowledge about SEO copywriting is pretty much a necessity these days. 
You can learn in a way that suits you. If you are interested in learning a new skill area such as real-time data analytics, there is almost definitely a course online. Another option is to attend classes in person. See what's on offer in your local town.
Discover a wide array of courses for professional development.
Be On The 'Write' Path
There has never been a more lucrative time to start a freelance copywriting business. Companies need quality content, and that demand isn't going to go away.
Starting a freelance copywriting business is achievable. Hard work, but achievable. Follow these seven steps, and earn the income you deserve. 
About the author
Patty is the EMEA Product Marketing Manager for RingCentral Office, the leader in cloud communications solutions. Patty is passionate about customer experience analytics solutions, creating value and differentiation, ensuring a better experience for customers and partners. She gained a wealth of international product marketing, product management, GTM and market development experience, across a range of high-tech SaaS in a fast-paced, hyper-growth environment that assumes both strategic and tactical execution. She is not new to UC, starting in Tandberg, then Cisco, driving the launch of video collaboration and services, and Enghouse with global responsibilities for hosted CCaaS. She has also written articles for sites such as MGID and MyCorporation.
Headshot: Image